List of in-house testing and diagnostics
General Testing
The testing below is very important to your health and diagnosing possible clinical problems with your health. These tests are most common and are all performed in our office.
Laboratory
Seale Harris Clinic has met all criteria for Laboratory Accreditation by COLA, a national healthcare accreditation organization. Accreditation is given only to laboratories that apply rigid standards of quality in day-to-day operations, demonstrate continued accuracy in the performance of proficiency testing, and pass a rigorous on-site laboratory survey. Seale Harris Clinic has earned COLA accreditation as a result of a long-term commitment to provide quality service to our patients.
Our lab is equipped to perform a variety of comprehensive diagnostic testing.
Visit 

LabTestsOnline

 to learn more about what your lab results mean.
Dr. Jeffrey J. Clifton serves as the clinic Lab Director.
X-Ray
All X-Rays at Seale Harris Clinic are completely digital. This means that your physician can view your x-ray on their computer moments after the x-ray has been taken. Seale Harris Clinic has invested in the best equipment to provide exceptional and efficient patient care.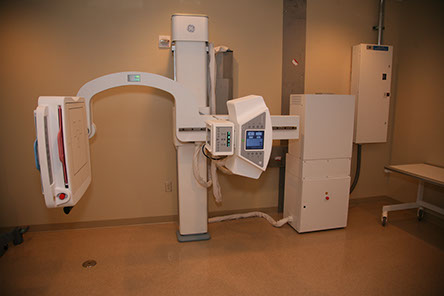 Ultrasound
Seale Harris Clinic does all forms of ultrasound in-house. There are a variety of different ultrasounds that focus on different parts of the body and all are done with the same equipment. Click on the different tests below for more information including what your physician is looking for when they order this test and any special preparation.
Abdominal Vascular
Carotid Ultrasound
Echocardiogram
Renal/Renal Vascular
Thyroid Ultrasound
Vascular Studies for the Legs
Nuclear
Seale Harris Clinic was granted accreditation by The Intersocietal Commission for the Accreditation of Nuclear Medicine Laboratories (ICANL). Participation in the accreditation process is voluntary. Accreditation status signifies that the facility has been reviewed by an independent agency that recognizes the laboratory's commitment to quality testing for the diagnosis of heart disease.
What is it?
Using a small amount of radioactive material injected into your blood stream, a nuclear stress test helps measure blood flow to your heart muscle during exercise and at rest.
I am coming in for this test, what can I expect?
Bring a comfortable pair of walking shoes or sneakers. Women, please try to wear a two piece outfit and avoid wearing a dress. Men, do not wear overalls or coveralls.
Indications:
Abnormal EKG
Chest pain
Chest tightness
It is very important for you to bring your medications with you. Also, bring a written list of your medications. The test takes about 3 to 4 hours. You will be injected with a radioactive material and that will have to set in for an hour or so before you are tested. It would be a good idea to bring a book.
Is there any preparation?
Yes, you will need to follow the guidelines below:
No Cialis for 7 days prior to the test. Avoid Viagra and Levitra for 24 hours before and after the test.
No caffeine or decaf products 24 hours prior to the test. Avoid all soft drinks, chocolates, coffee and tea, including decaffeinated coffee and tea, which contain a small amount of caffeine.
Take all medications as normal unless otherwise instructed by your physician. Note, before the stress test, your physician or our staff may instruct you to take or to withhold some of your medications; please follow their instructions. If you have questions regarding your medications, contact your physician or our office staff.
DAY OF TEST do not eat or drink anything except water 4 hours prior to the stress test.
DAY OF TEST do not smoke or use any tobacco products 4 hours prior to the stress test.
DAY OF TEST do not use any nicotine products (i.e., patches, gum) 4 hours prior to the stress test.
Please inform us of any of the following so we can make sure the test is tailored for you:
Asthma, asthmatic bronchitis, wheezing, emphysema or lung disease.
Any pulmonary inhalers used recently or in the past or breathing treatments required. Bring any inhalers with you.
Recent symptoms suggesting stroke, even if these went away.
Any recent worsening of chest symptoms.
Any Viagra, Levitra, Cialis taken within the last 7 days
Any Persanntine, Dipyridamole or Aggrenox taken within the last week.
Please consult the list of Heart Rate Limiting Medications that you may need to stop taking prior to the test.
What does the test look like?